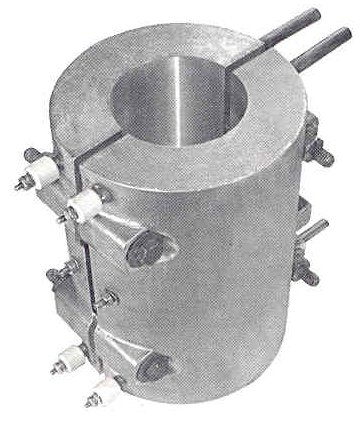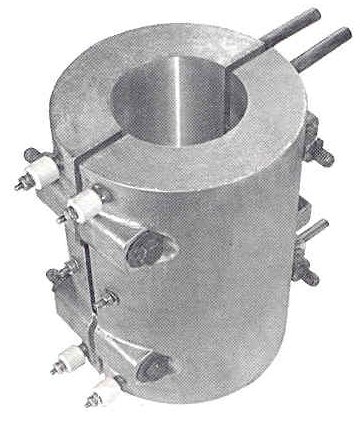 Cast-in heaters are available in a wide variety of shapes, wattages, and voltages. They are rugged and are designed for long life. Cast-in heaters can be manufactured into almost any design to meet the requirements of your heating application.
Options:
Aluminum, Bronze, or Iron Material
Heat only
Water cooled
Cooling fins
Cutouts, holes
Thermo wells
Strap or flange lockup
Protective housings
| | |
| --- | --- |
| Cast Material | Max Temp |
| Aluminum 443 | 800° F |
| Aluminum 319/356 | 700° F |
| Bronze/Copper alloys | 1400° F |
| Iron | 900° F |
Permanent Molds: For large quantity runs, this process uses steel or cast iron molds and yields a superior finish and enhanced cosmetic value.
No-Bake Sand Molds: For small quantity runs, this process requires wooden patterns. This is an economical, fast means of manufacturing tooling for lower volume casting requirements and for making prototypes.
Cast-In heaters for all plastics processing applications including, air and liquid cooled barrel heaters, L-shaped heaters, vent cut out heaters, heat only cast in barrel heaters, air cooled with shroud, hollow cast nozzle heaters, and cooling jackets for cast in barrel heaters.
Cast-in heater designs provide effective heating and cooling for plastics extrusion barrels. Fin patterns can be supplied as a standard height of 1″ or manufactured to a low profile thickness for small extruders or applications requiring rapid cooling. This pattern is designed to allow the optimal airflow around the casting for maximum cooling rates. Typically the forced air for the cooling function is driven by a shroud and blower system that is an integral part of the extruder, however these cast- in heaters can be utilized with an individual shroud and blower assembly for increased cooling control of the individual heater zones. All cast-in barrel heater designs are available with mounting options of stainless steel locking straps or bolt-on clamping construction. Various electrical termination options are available for the air cooled cast-in heater depending on the application and environmental requirements.