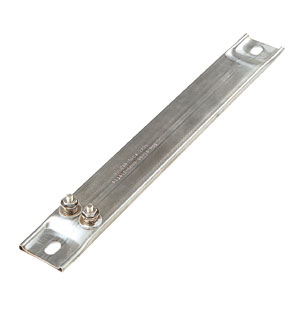 Strip Heaters can be designed in various lengths, widths, wattages, and voltages.  They are widely used in platens, dies & molds, tanks, injection mold machines, autoclaves, sealing bars, process welding, thermoforming, drying cabinets and equipment, baking, food packaging, food warming, hoppers, ducts, humidity control, heat curing, shrink tunnels, resistive load banks, dehydrating ovens, and melting processes.  Strip heaters are very flexible in the design process to meet your heating applications.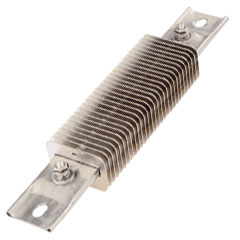 | | |
| --- | --- |
| Core Types | Mica 900° F, Mineral Insulated 1400° F, Ceramic 40 watts/in2, Tubular 1200° F |
| Termination Types | Screw terminals, Fiberglass leads, TFE leads, Mica Tape Leads |
| Termination Options | Copper elbow, Ceramic Beads, SS Armor, SS Braid, Convoluted Armor, Sleeving, Spring Relief, Right Angle Cap and Tube, Pipe Coupling, Terminal Covers, Monel Lugs, Spade Terminals |
| Electrical Options | 3-Phase, Terminal box, Plugs, Ground Wire |
| Case Options | Various Thickness, Mounting Holes/Slots, Other Holes/Slots/Cut-Outs, Sealed Case, Butt Case, Fined Sheath, Sheath Material, Watt Distribution |
Ceramic Finned Strip Heaters
Finned strip heaters are extremely efficient and dependable as a heat source for hundreds of industrial and commercial applications. They are used for both forced and natural convection air heating.
Channel Strip Heaters
Channel Strip Heaters have proven to be extremely efficient and dependable as a heat source for surface heating in hundreds of industrial and commercial applications. The rectangular tube gives full surface contact when used in a milled slot to provide maximum heat transfer area.
Mica Insulated Strip Heaters
An economical, practical and reliable heat source capable of providing uniform heat transfer to flat surfaces. Mica insulated strip heaters are used in hundreds of industrial and commercial heating applications.
Temperatures reach as high as 500 degrees F and use the high quality magnesium oxide that is used in tubular elements that allow for effective heat transfer. A fairly inexpensive way of heating surfaces or small areas, strip heaters are an excellent solution to meet any budget.
Strip heaters are composed of a heating element, a protective sleeve or sheath, and mounting hardware. If strip heaters are used as a radiant heater, they have can have fins to maximize surface area and heat transfer to the air. Strip heaters can be clamped or bolted onto objects or solid surface contact heating over large areas and are primarily used in indoor applications.