Click Here For Our Panel Portfolio
We can design and build custom temperature control assemblies and can design a controller for your process heating application.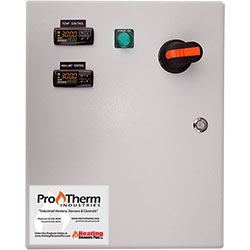 ProTherm's control panels and control systems are convenient, ready to connect packages that utilize temperature, power, multi-loop, process and related safety limit controllers in NEMA rated enclosures. Controller options include auto-tune, PID, on-off and percent power. Industry standard I/O options meet virtually all applications while enclosure NEMA ratings and agency approved temperature, limit and power controllers mean built-in reliability. Solid state power controllers are available in single-phase, and three-phase/two and three leg configurations with phase angle or burst fire switching.
For industrial and process heating, our controllers can handle multiple zones, temperature settings and sensors.
ProTherm can provide a control system for any electric process heating application. Standard and custom sized enclosures, along with standard and custom designed control operation, give ProTherm the flexibility to supply a wide range of control panels to complete the heater control system.
Our experienced engineering staff can design control systems ranging from ON/OFF logic to fully proportional SCR, multiple channel and ramp/soak control with computer interface capability.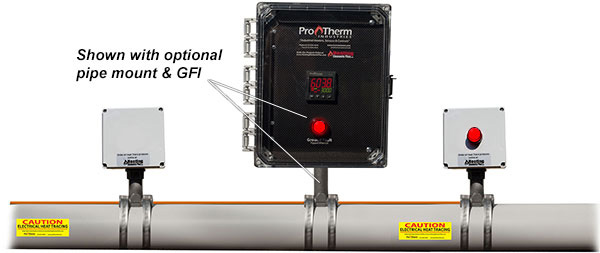 From a simple temperature controller, to an entire manufacturing facility, we can design and build a custom control panel for you.
Control Panels We Offer:
Temperature Control Panels
Heat Trace Control Panels
Power Distribution Panels
SSR Power Control Panels
Portable Controllers
Lab & Hot Runner Controllers
Variable Power Controllers
HEAT TRACE POWER DISTRIBUTION PANELS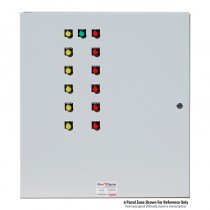 ProTherm's heat trace power distribution panels can be customized for your engineering requirements. We offer a single source solution for made-to-order heat trace control panels, and you can customize and order it online. The MZ Series Heat Trace Power Distribution Panelis designed to handle larger loads for heat trace and snow melt cables. If you need assistance designing your heat trace cable system, we have engineers who can assist you.