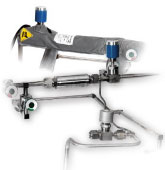 Whether you need to control condensation to protect circuitry or to prevent precipitate build-up on tanks and piping, ProTherm Industries has a solution for you. We stock a variety of heaters that are ideal for stopping condensation in a number of different applications, such as on the outsides of tanks and pipes that contain cold liquid or gasses.
Condensation forms on the walls of any pipe or vessel when the liquid inside it is colder than the air outside it. This is not ideal in manufacturing or lab environments, especially where mold can be an issue.
One solution to this problem is to heat the contents with heating elements, so that it's at or slightly above the air temperature. Our heating elements can be in the form of flexible cable or heated rubber blankets.
Depending on the type of vessel involved in your application, any of the styles of heaters below may be appropriate for what you need to do.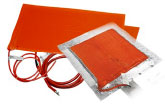 Silicone rubber heaters are a versatile and flexible style of heater that can be applied to many different shapes of tanks and hoppers. Pipes can be heated using heat trace cables or heat tape. For standard-sized drums or totes, there are heaters designed specifically to fit. For large tanks, we offer many styles of immersion heaters to heat liquids efficiently.
Specific Applications
Semiconductor: Heating exhaust lines, Gas delivery, CVD, TEOS, Nitride &Etch
Control Panels: Protect Enclosures from Condensation
Hoppers: Control Bridging and Corrosion
OEM Capabilities
Heaters Designed to Prevent Condensation
Cloth Heating Jackets
Silicone Rubber Heating Blankets
Drum Heaters
Pail Heaters
IBC / Tote Heaters
Heat Tape & Heating Cords
Heat Trace Cable