Flexible heaters are thin, bendable, and can be shaped to fit almost any type of equipment. Flexible heaters can apply heat directly to the most complex shapes, geometries, curves and pipes conceivable without sacrificing efficiency or dependability.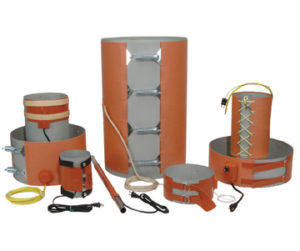 Excellent heat transfer results from the heater's thin design and direct bonding to an application. Flexible heaters provide fast heat-up and cool-down rates, uniform heat distribution and high watt densities.
There are many varieties of flexible heaters which include silicone rubber heaters, polyimide film heaters, heating tapes, heating tapes with thermostats, rope heaters,wrap around tank heaters, gas cylinder heaters and heat trace cables.
They can be easily bonded or adhered to other system parts. Flexible heating elements have a wide range of industrial, commercial, and military applications where reliability, cost of effectiveness, minimum cross section, resistance to deterioration and basic flexibility are critical.
Silicone Rubber Heating Blankets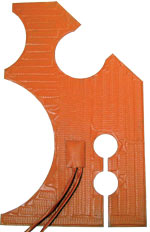 Silicone rubber heaters also have very good mechanical properties. They are of low mass construction and provide rapid heat-up due to direct bonding to the part. Flexible Heaters are not affected by mechanical shock, vibration or repeated flexing and will not stretch or tear over a temperature range of -392°F to +500°F. Silicone Rubber heaters are pre-designed and available in a wide array of sizes and ratings to meet customer needs.
Many industrial heating applications require heaters with the ability to resist chemicals, moisture and abusive environments. These same applications also require rapid heat-up, steady temperature maintenance, and uniform heat distribution.
ProTherm can design a custom, silicone rubber heat blanket in custom shape and sizes. We have standard sizes, as well as silicone band heaters for drums and totes.
Heat Trace Cable & Heating Tape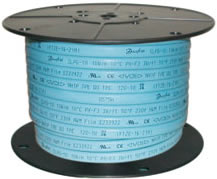 Heat trace cables provide heat to maintain the temperatures of pipe contents for the purposes of freeze protection or to maintain a specific process temperature range. They come in a self-regulating and constant-wattage versions. Heating cable is ideal for long runs along pipes and vessels and can be cut to length at the job site.
Heated cable is capable of reaching 500°F and meets NEC 427-23 and IEEE Std 515-2004.
Heat cable is different than heat tape, so be sure to confirm you are ordering the correct product for your application. We offer a great selection of heat tape that is much more flexible and provides a more rapid thermal response.
---
Heat tape is for applications where smaller cylindrical sections require high power densities and/or high temperatures. Heat tape is different from heat trace cable, and we carry both, so if your not sure what you need for your specific application, please call us at 615-834-4044 before ordering.
The biggest difference between heat tape and heat trace cable is that heat tape is sold in fixed lengths, and we sell it from 2′ to 20′ in length depending on the type you order.
Heat tape is available in 120V and 240V versions, with power ranging from 52W to 3,135W, and comes in widths ranging from 1/2″ to 3-1/4″.