Container Heater Options
Most chemicals & industrial supplies have stringent storage and temperature requirements. Cold temperatures can be particularly troublesome. If you store chemicals or other industrial supplies in large totes or drums, it's difficult to find an effective heating solution.

ProTherm has many solutions for heating any size container. From pail heaters to large tanks, we have a solution for your application. We also build controllers to monitor your temperature and heated hoses to transfer your contents without losing temperature.
Applications
Warm bulk tote tank contents at a required temperature
Viscosity control
Freeze protection
Thermal mixing
Temperature maintenance
Drum, Pail & Barrel Heaters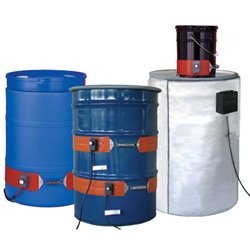 Provide practical, efficient means of freeze protection, viscosity control and maintenance of materials at elevated temperatures. A variety of standard sizes are combined with availability of configure-to-order designs to meet a variety of applications.
Durable and long lasting
Large heater coverage and high wattages
Exclusive FM approved hazardous-area silicone rubber drum heater
Patented grounded heating element
Easy adjustable temperature control
Full coverage drum heaters feature an easy-to-use digital temperature controller with audible/visual alarm
Full coverage drum heaters and insulators maximize heat efficiency
Variety of standard sizes and configure-to-order options for special vessel heaters
Tote, IBC & Tank Heaters

Our tote heaters and ibc heaters emit safe, consistent heat. This ensures your totes are stored at optimal temperatures. Our standard tote heaters and ibc heaters can fit 250 gallon, 275 gallon, 330 gallon, 350 gallon, 450 gallon and 550 gallon totes.
Speed up the flow of products like honey, molasses, lube oil, biofuel, etc. stored in bulk containers
Safely heat: Does not contaminate or scorch your product
Large Tank Heaters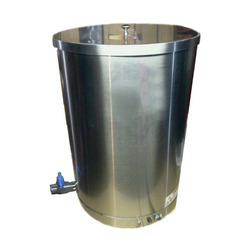 ProTherm's tank heating solutions are uniquely designed to heat large storage tanks located above or below ground and containing highly viscous fluids or heat sensitive materials. ProTherm offers uniquely designed electric heating systems for large storage tanks. The systems can be installed in above or below-ground tanks made of steel, concrete, or fiberglass.
We can heat any size tank or vessel to your temperature requirements. We offer over the side heaters, flange heater elements, screwplug heaters, cartridge heaters and flexible heating blankets. Contact us to discuss your application.