Over the side heaters are used to heat up larger containers of liquid that have openings. Immersion heaters and tank immersion heaters are often available with several different ranges of temperatures that can be fine tuned for extreme accuracy. As such, very tight and efficient control can be maintained which has a positive effect on the performance of the industrial plant. Along with this, several mounting options can be also be availed which further facilitate processes. Examples include screw plug connections, over the side designs, 3 phase immersion heaters, immersion water heaters and flanges. There are several options for piping as well such as flanged, welded or threaded.
Tubular Element Style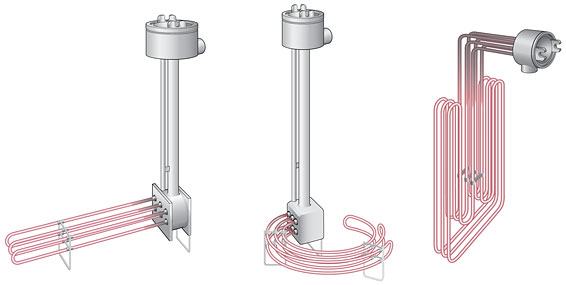 Over the Side Heaters are used in applications where drilling a hole into the tank wall is not possible or desirable. The heater can be installed resting at the bottom of the tank or hanging from the lip. Over the side heaters are available in a variety of sizes, materials. and configurations The heating elements are offered in a number of materials suited to a variety of fluid heating applications. Terminal housings are available for indoor, outdoor (weather-proof NEMA 4) and explosive (NEMA 7) environments. Many options are available including thermostats, high limit and process thermocouples or RTD sensors. Since we are a made to order company, we can offer a large selection of sizes and configurations which are not listed below. Please contact us for assistance with your application.