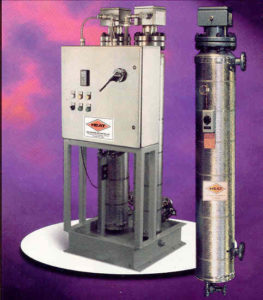 Circulation Heaters and Circulation packages are compact, self contained units designed to heat flowing liquids and gases, including super heated steam.  Circulation heaters can be installed vertically or horizontally for in-line heating, or mounted vertically to a tank as a side arm heaters.  Circulation packages can be horizontally or vertically designed and are mounted on a skid with a complete control center.  Each heating unit consists of a tubular flanged immersion heater mounted in a steel heating chamber.  The chamber is equipped with flanged inlet and outlet connections, mounting studs, high temperature insulation and an aluminum jacket.  Circulation heaters and packages are available in a wide range of kW sizes, construction materials, NEMA ratings, and controls
Specifications:
6 to 480 kW and higher
Flanged construction
208 volt through 575 volt, 3 phase
5 to 40 watts per square inch and higher
NEMA 4/12 terminal housing
Features:
Stainless steel sheathed elements
TEMA type baffles provide increased heat transfer and structural support
High temperature insulation with aluminum jacketing
Air bleed and drain ports
High strength steel bolting
Stainless steel spiral wound gasket
ASME code design and stamp available
Custom designed for your application
Construction Features
Flanged Heater:
Flanged immersion heaters consist of "U" bend tubular heating elements welded into a standard ANSI pipe flange.  A thermowell is installed in the center of the the flange, which can house a high limit sensing bulb. A NEMA 4/12 terminal enclosure is installed to protect the heating element terminations.
Heating Chamber:
The standard heating chamber is constructed from seamless carbon steel pipe.  One end is sealed with an equivalent plate or end cap; the other is fitted with a slip-on flange to match that of the heater. Also, a drain line connection is provided in the end cap. The chamber is equipped with flanged inlet and outlet connections which can be altered to meet customer requirements. The standard unit is furnished with high temperature insulation encased in an aluminum jacket.
General:
The flanged heater, a vertically mounted heating chamber with bleed and drain valves, and the control center are pre-wired and skid mounted on a welded steel, drip-proof base.  A thermocouple probe is installed in the outlet line for the temperature controller.  The skid package is factory tested before shipment.
Control Center (Circulation Heater Package)
The control center is designed per the National Electric Code utilizing UL listed components. It includes but is not limited to: digital programmable temperature controller, preset high limit device with manual reset, main disconnect switch, individually fused contactor circuits, control voltage transformer, pilot lights and selector switch, all mounted and wired in a NEMA 4/12 enclosure.
Options
Inlet & outlet Connections:  Threaded connections can be used instead of the standard 150 pound carbon steel flange.  The connections ban be located per customer preference.
High Pressure Construction:  The heater and heating chamber can be designed for high pressures using 300 lb., 400 lb., 600 lb. flanges and up.
High  Temperature Construction:  Heater terminals are extended away from the flange face for high temperatures (above 550° F)
ASME Design and Stamped:  The heating chamber can be built in accordance with the requirements of the ASME Boiler and Pressure Vessel Code.
Construction Materials:  All parts can be constructed from various grades of stainless steel and other corrosion resistant materials.
Portable Carts:  The circulation heater or complete circulation heater package can be mounted on s skid with wheels or casters for portability.