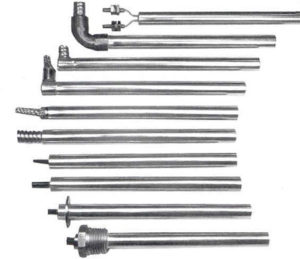 Cartridge heaters, also known as insertion heaters provide superior heat transfer, uniform temperatures, resistance to oxidation and corrosion and long life even at high temperatures.
Cartridge Heaters can be made with various diameters, lengths, wattages, and voltages. They are widely used in molds and dies, platens, plastic molding and packaging machinery.
Used in sealing, extruders, hot runner molds, laminating equipment, process tanks, and die blocks.
Cartridge heaters have many options to meet your heating application needs.
| | |
| --- | --- |
| Termination Types | Screw Terminals, Fiberglass Leads, TFE Leads, Mica Leads, SJO wire, Pins |
| Termination Options | Copper Elbow, SS Braid, SS Armor, Convoluted Armor, Fiberglass Sleeving, Ceramic Beads, Clip Support, 90 Degree from Sheath, Double Ended Screw/Lead, Terminal Box |
| Termination Seals | TFE, Epoxy, RTV, Cement |
| Thermocouple Options | Disc end, Centered, Grounded, Ungrounded, T/C well, Replaceable T/C |
| NPT Fitting Options | Brass, Steel, Stainless Steel, Single-Ended, Double-Ended |
| Mounting Options | Pipe Adapter, Anti Rotation Tab, Flange, Stop Ring |
| Electrical Options | Ground Wire, Dual Voltage, Distributed Wattage, 3-Phase, Plugs |
| Mechanical Options | Dimension Tolerances, Annealing, Bending, Centerless Grind, Flush End Disk, Sheath Material, Square Sheath |
Our cartridge heaters are the industry standard. They are designed and manufactured for temperatures up to 1600°F. Choose from one of our thousands of in stock models or let our engineers design a custom heater for your application. Also available are non-swaged and square cartridge heaters.
Through refinements in the swaging process, specially designed cores, careful selection of magnesium oxide fill, nickel chromium resistance wire, stainless steel tubing, and carefully controlled production processes, our cartridge heaters routinely outperform other cartridge heaters in difficult applications.
Available in a wide variety of diameters and configurations. Choose from over 10,000+ stock heaters for immediate delivery or let the engineers at ProTherm Industries design a unique heater for your special application. Call for availability.
Standard manufacturing times are normally less than 2 weeks.