ProTherm Industries, Inc. is a Tennessee corporation, located just outside of Nashville, Tennessee. We design and ship heating elements, control panels and heated hoses worldwide.

ProTherm has been providing manufacturers, laboratories and contractors with industrial heating elements since 1989. We have over 30 years of experience in designing process heating solutions and electric, high temperature, heating elements.
From pipe freeze protection, to large, process heating, packages; ProTherm has engineers on staff to handle any size project. We have grown to serve an increasing number of global markets and industries, and we are acknowledged as experts at delivering heating solutions.
ProTherm designs industrial heaters, temperature sensors, controllers and assemblies – all of the components of a thermal system.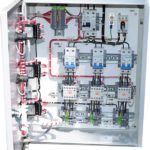 ProTherm has a fully staffed production facility specializing in building heater control panels. We build all of our own panels in house and can design a temperature control system for any size application. From a small heat trace system to the aerospace industry, we can handle any size project. Our control panels are hand built and meticulously wired and labeled. Just look at any of the internal images of our panels and you will see a high attention to detail. When you have to do maintenance or setting up your control system, you can rest assured that our controllers won't let you down.


Another item we design and manufacture is our custom heated hose assemblies. We build flexible PTFE, and stainless steel braid, heated hoses right here at our facility. From sample lines to food grade heated hoses, we have you covered.
ProTherm Industries provides a wide range of electric heating elements for industrial and process applications.
We also sell heated hoses, drum heaters, tote heaters, tank heaters and silicone rubber heating pads and blankets.
If you don't see an item on our website, call us at 615-834-4044 and one of our technical engineers can assist you with your order. We are constantly adding new products to our website daily.
So, if you're needing a band heater, cartridge heater, bolt heater, coil heater, runnerless mold heater, cast-in heater, flanged immersion heater, circulation heater or a formed and finned tubular heater, ProTherm Industries has them.
Call us today, or order on our secure website. We are sure you will find us helpful in fulfilling all of your industrial heating needs.