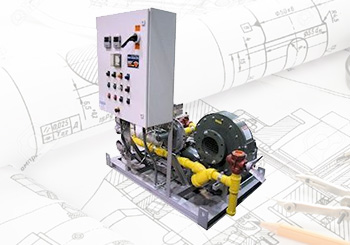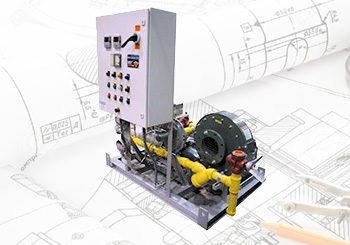 ProTherm's packaged process skids are contained within a frame that allows the process system to be easily transported. Individual skids can contain complete process heating systems and multiple process skids can be combined to create larger process systems or entire portable plants. The main advantage is quality control. Because only one party will be responsible for the construction and build of the skid process unit, there is a higher level of responsibility.
ProTherm's experienced process and control engineers who will take your process and provide a total solution. Using metering pumps, calibration columns, pulse dampeners, pressure and flow instrumentation, actuated and manual valves, many types of pumps and a UL rated control panel, your application arrives on the job ready to be installed.
Custom skid systems can be fabricated from aluminum, steel, or stainless steel and galvanized or coated to customer specifications. Safety engineers ensure that all skids operate within the parameters required by industry-specific organizations.
ProTherm offers customized, process skid, fabrication to create mechanical and electrical skid mounted process systems that are pre-wired and mounted on a common base to meet your process requirements. Our process control skids are all built in our own facilities, located in Hermitage, TN.
From initial design through factory acceptance testing, we have the internal capabilities to provide a turnkey package complete with 3D modeling, fabrication, controls and instrumentation, electrical wiring, pressure testing, performance testing and delivery.
Process skid components
Temperature controller & instrumentaion
Piping, flange & valves
Flow meters
Heat exchangers
Insulation
Pumps
Tanks